In line with Swim England's baking challenge the club is hosting the great Beacon bake off!
We have some fantastic bakers in the club who have produced some amazing cakes over the past few years – some of which are below to give you some inspiration!
Please send in your entries (no matter how big or small) so we can publish on our social media. This competition is open to swimmers AND parents – the more entries we have the better!
Entries can be anything you like! Cakes, cupcakes, cookies, iced biscuits – as long as its Swimming themed.
We will be collecting all your entries and the judging panel made up of some of the club's top bakers will pick the top entries
Ready…. Steady…. BAKE!
#AquaticsBakeOff #TheGreatBeaconBakeOff #TeamBeacon
The Judges
Debbie Ducker and Christine Webb will be judging your bakes this year!
Both judges are seasoned bakers and can whip something together from the odds and ends they find lying around in the pantry in order to feed any unexpected visitors.
Debbie and Christine are excited to see what our swimmers can bake! Having made many cakes for the club in the past, here are just some of their most amazing creations below.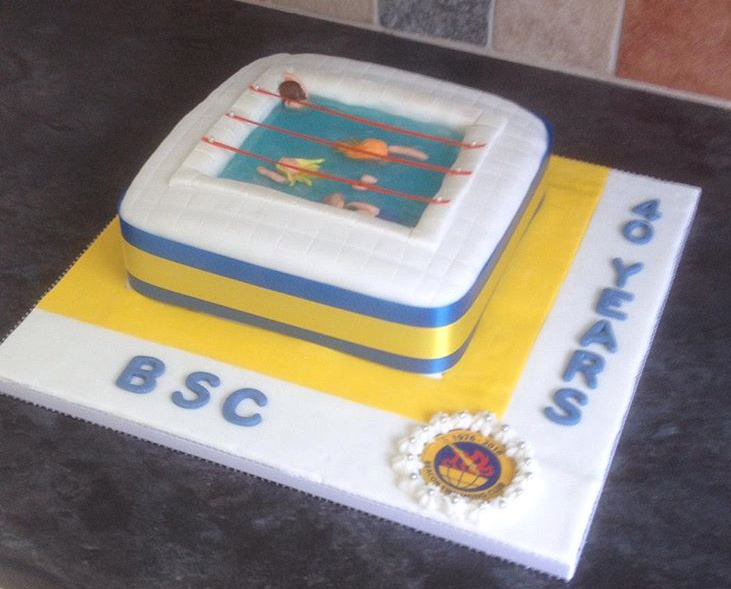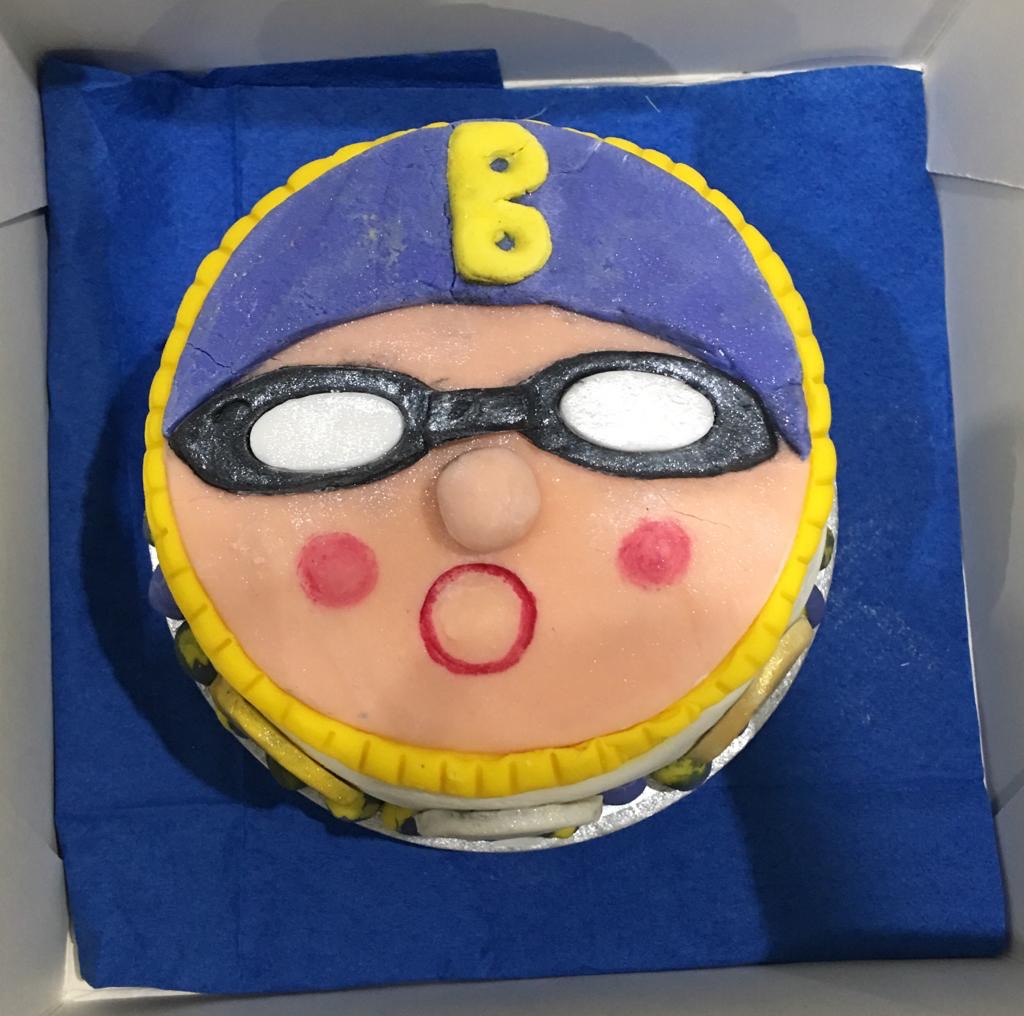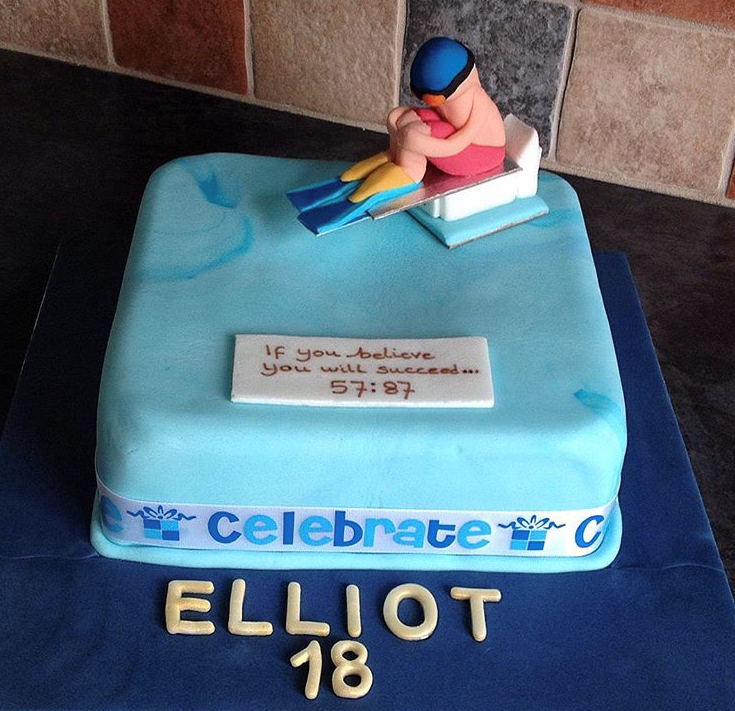 Both Debbie and Christine are excited to see what our Beacon bakers can create!
Debbie Says:
Firstly I'd like to say it is such an honour to be chosen to help judge your #greatbeaconbakeoff bakes!
Not sure if I am the Prue Leith or Paul Hollywood of our judging panel, so will don a suitable bright necklace and do my best 'Hollywood stare' when I look at them ?? I am somewhat disappointed that I won't get to taste them all - although my jeans will probably be grateful for that!!
I am really looking forward to seeing all your creations, good luck and have fun!
Christine Says:
Hi Beacon Bakers,
I am so honoured to be asked to help judge your amazing bakes for The Great Beacon Bake Off.??
I am not a professional baker but a very keen self taught amateur. I love baking and if I can do it than anyone can & it is such fun! So give it a go!??
Please get baking, swimmers & parents & I look forward to judging some fantastic entries from you all! ??

The Entries
THANK YOU TO EVERYONE WHO ENTERED THE GREAT BEACON BAKE OFF 2020!
We had an amazing 39 entries to the bake off this year – its only a shame the judges (and the coaches!) cannot try all your fantastic bakes!
Everyone has come away a winner from this competition as you got to eat your yummy treats!
Please click HERE to see the Great Beacon Bake Off entries 2020...
The Winners
Please see our judge's joint winners for each category below and on attached document.
What our judges have to say…
"I have thought long & hard about these choices. I judged them not just on presentation & skills involved but also creativity & fun, also how they represented Beacon S.C. & Beacon L.S.C.
The junior entries were simply amazing & they should be especially proud of their efforts.
Great fun & I am so honoured to have been involved in the competition."
Chris Webb
"Firstly, I'd like to say to everyone, very well done. Thank you to everyone who entered.
You sent us some superb entries and it has been very difficult to choose from such inspired designs, showing excellent baking and decorating skills. I really struggled! It was sometimes tricky to judge when you could not see the cake itself but taking into account the ages of the participants and the skills I could see on show, these are my finalists.
One final thing.... Please can we do another one next year so we can taste them!!"
Debbie Ducker
JUNIOR JOINT WINNERS – Elouise J and Marie F-B (Congratulations!)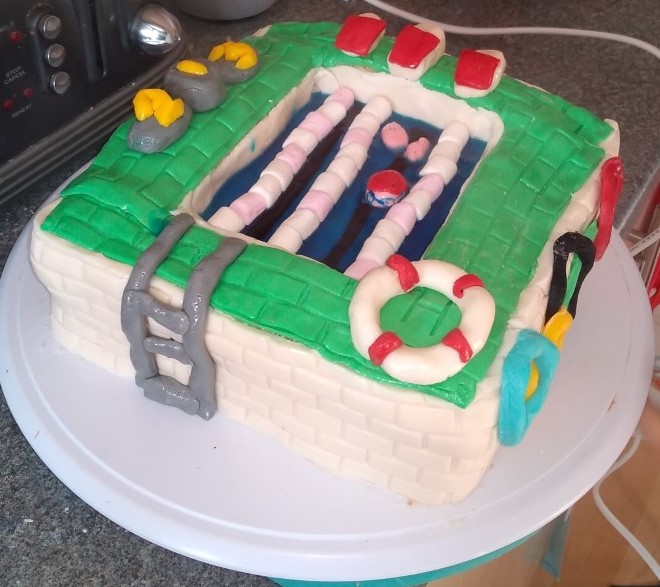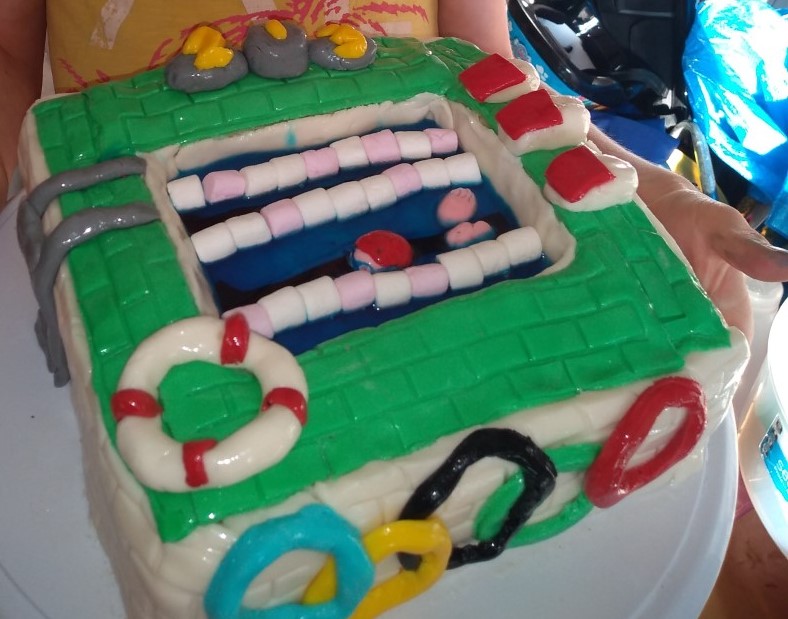 This is an amazing cake for a junior to have baked. Great height & neat layering. The detailed fondant work is exceptional & it has obviously been very well planned & executed brilliantly. A very well deserved 1st place in my opinion. Congratulations!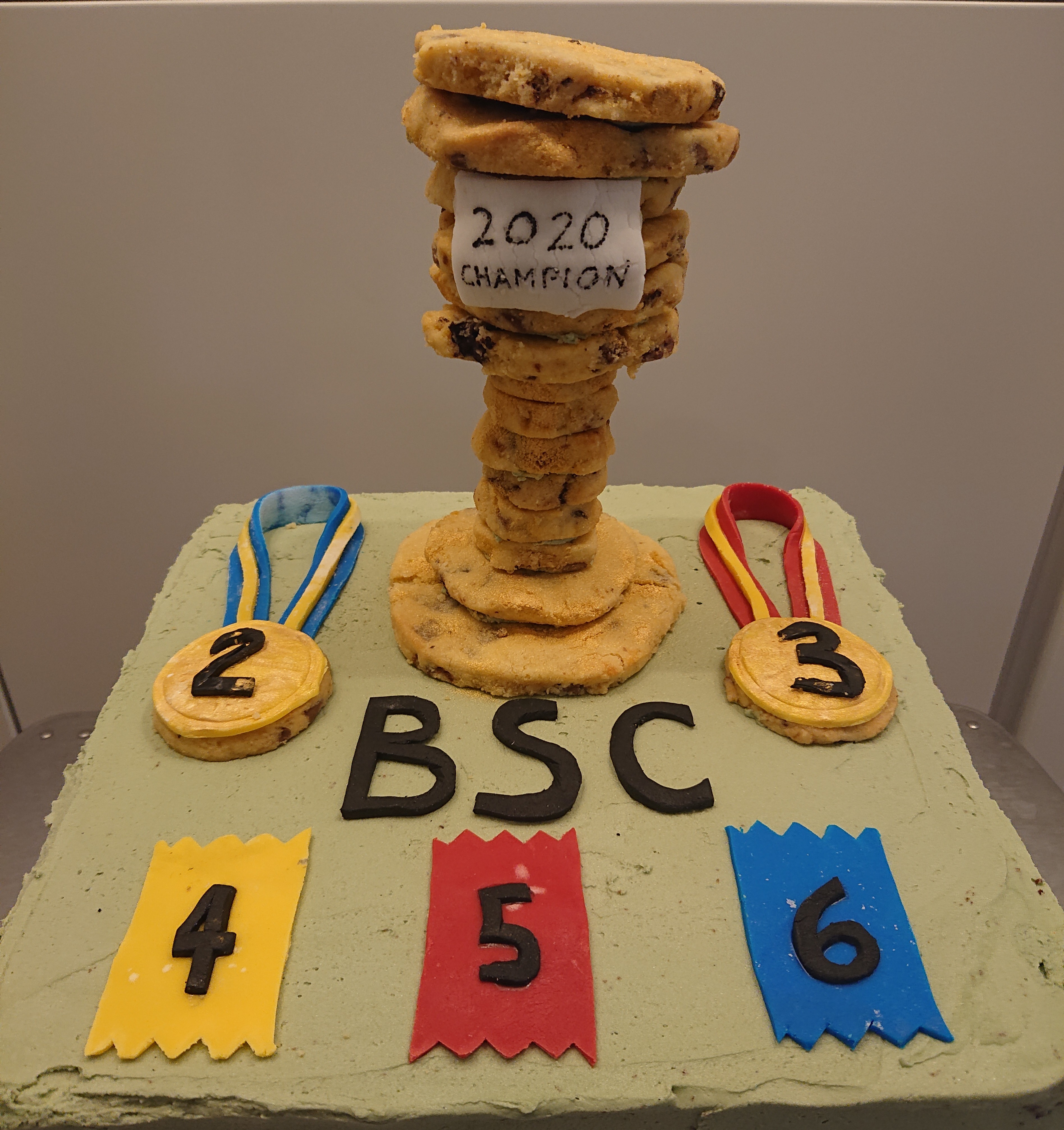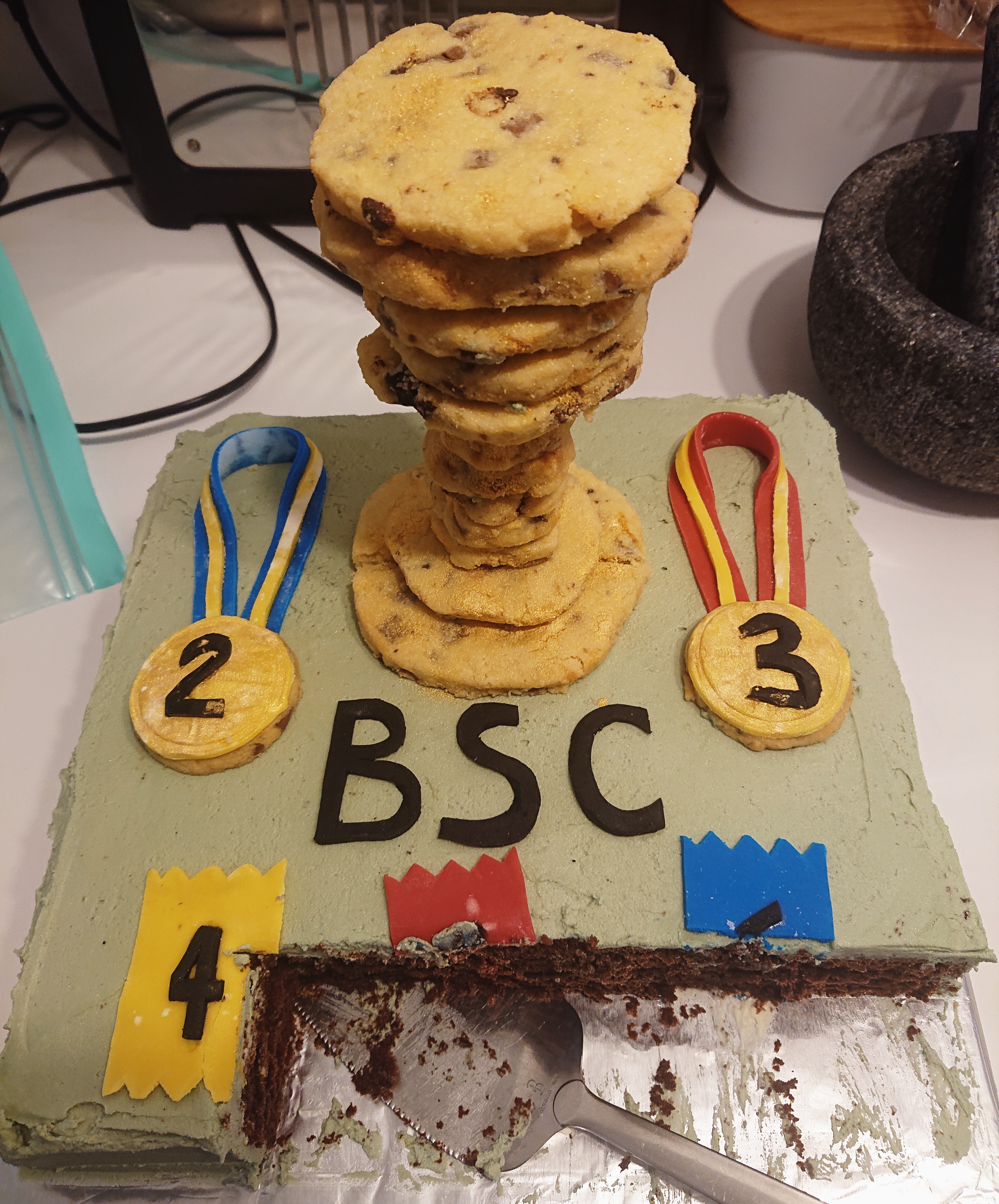 This junior baker has not only baked a cake but also incorporated cookies into a very elaborate creation. A lot of hard work, thought & skill has gone into this entry & is presented wonderfully. Lovely lettering & construction of the trophy. A real credit to Beacon.
SENIORS JOINT WINNERS – Katie N and Flo T (Congratulations!)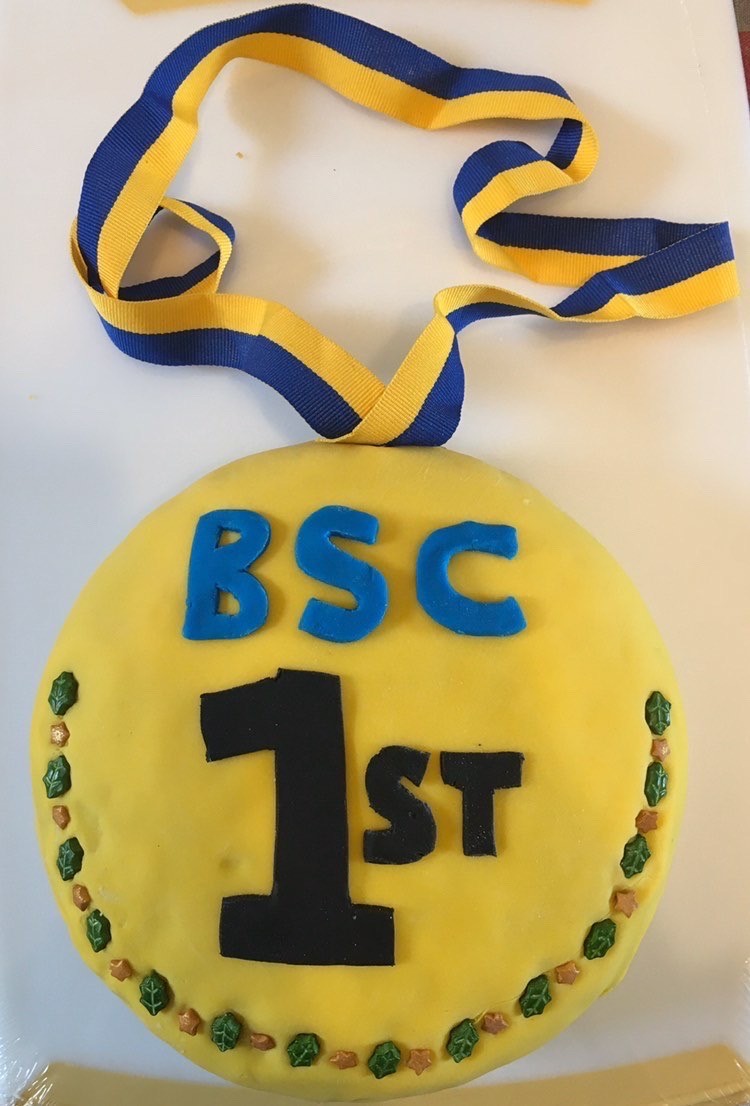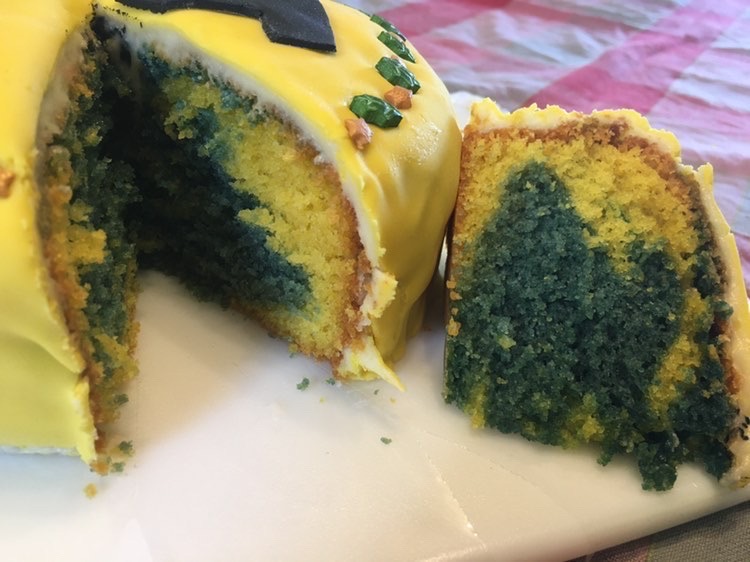 I chose this cake as the winner because it is a very effective representation of Beacon S.C. both in the idea of the dome cake as a medal & the Beacon colours. Not over elaborate but very well thought out & decorated. Congratulations!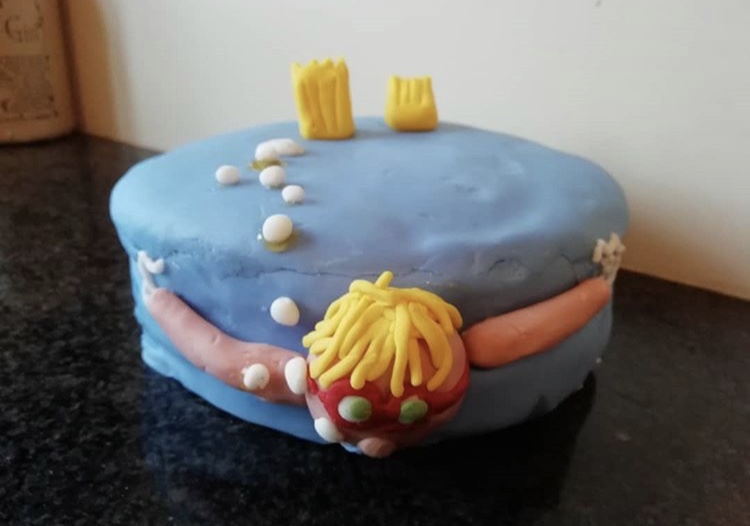 I chose this entry even though the fondant covering isn't perfect but I love the concept.
Such a clever idea & wonderful fondant modelling to create a really fun cake. Fab!
OPEN JOINT WINNERS –Caryn M and Claire RR(Congratulations!)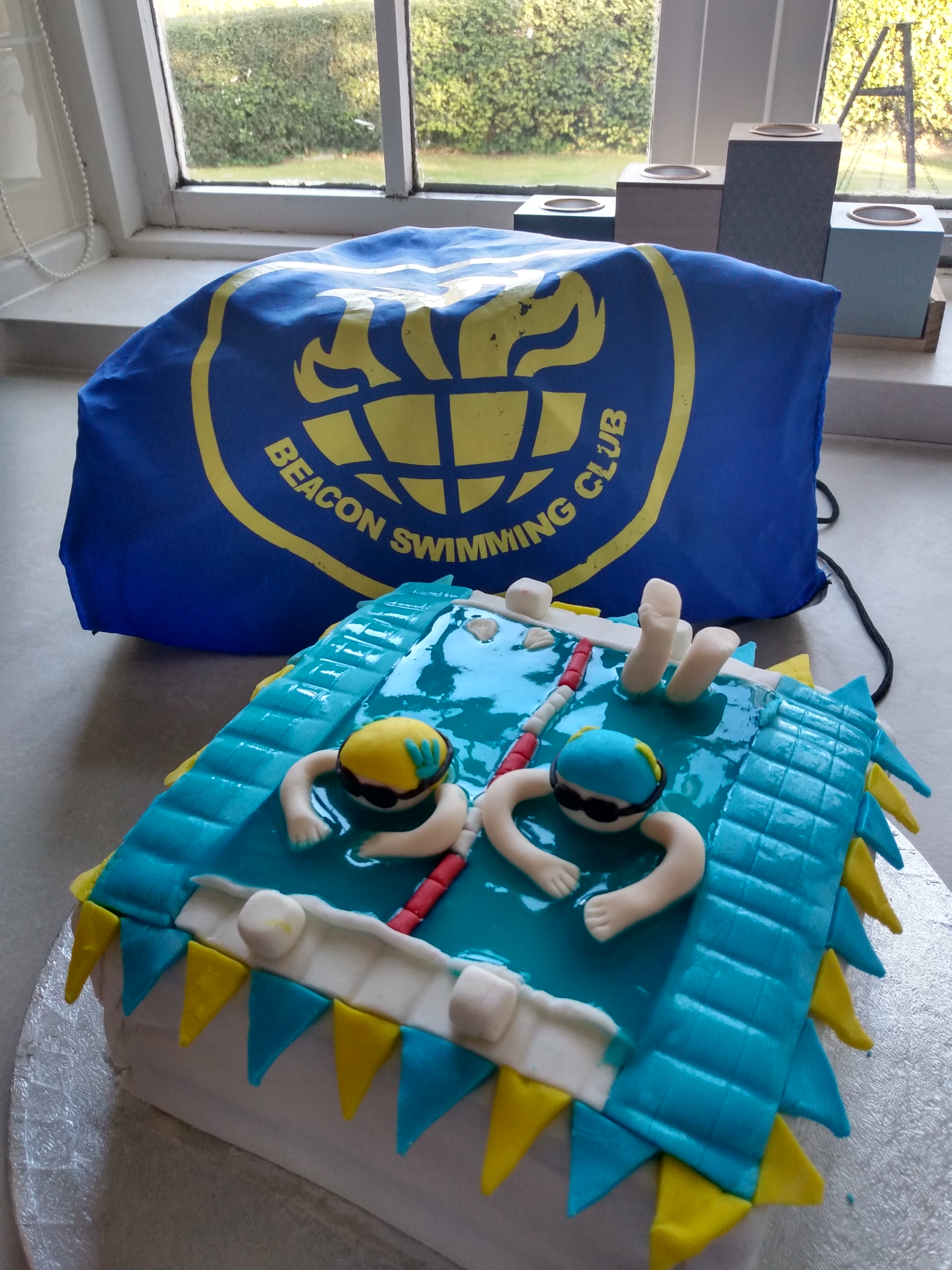 I chose this cake as the winner because besides being very well made & presented, it represents Beacon S.C. perfectly. Excellent fondant modelling & detail, even down to the logo on the swim hats! Great height & shape & finishing with the Beacon coloured bunting surrounding the pool. A very worthy winner. Congratulations!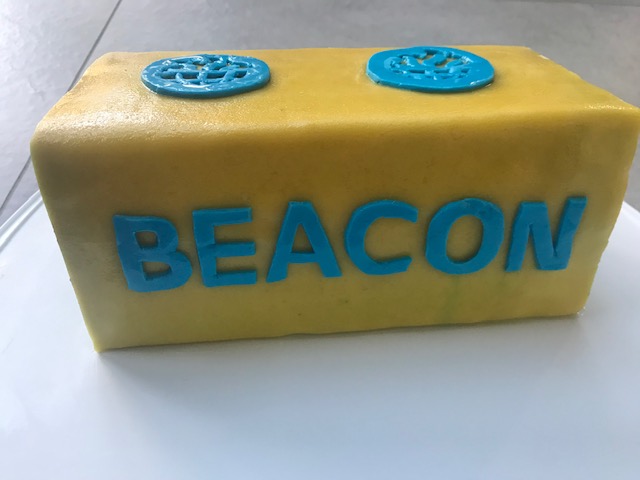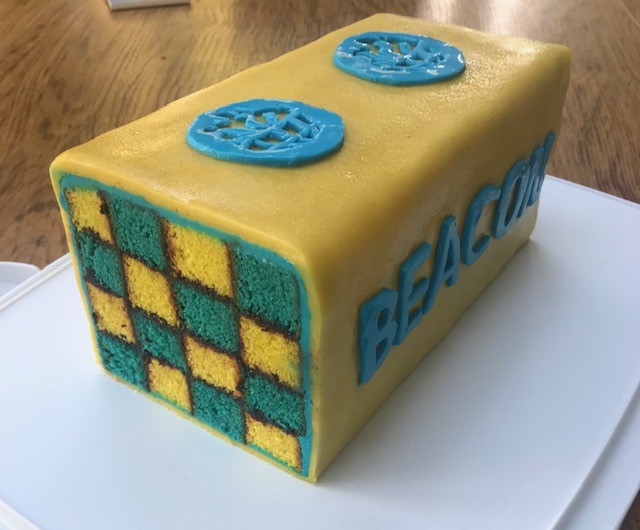 This may look at first glance a simple cake. But it merits serious praise and high marks for technique, its construction and layering of the Battenburg sponge design and the neat covering of the regal-icing is wonderful. The Beacon colours are represented perfectly. Very neatly layered with homemade jam & the fondant logos & lettering are so precise. Very impressive!
Well done everyone!
The Great British Bake Off Team 2020